---
---
God & Country Home
Search Page
---
---
BENJAMIN HARRISON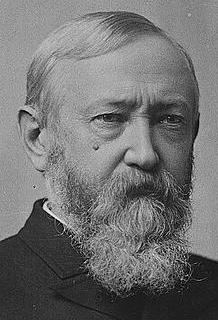 1833-1901
23rd President (1889-1893)
---
---
Education: Miami University
Occupation: lawyer
Political Affiliation: Republican
---
Religious Affiliation: Presbyterian
Summary of Religious Views:
At least from his college days onward, Harrison appears to have been quite devout. In addition to frequently attending church, Harrison became a church elder, and taught Sunday school.
Views on Religion & Politics:
Harrison's religious faith instilled in him a sense of duty which underlay his political activities.
---
Quotations:
"I hope you will renew your Christian faith and duties. It is a great comfort to trust God -- even if His providence is unfavorable. Prayer steadies one when he is walking in slippery places -- even if things asked for are not given." -- letter to Russell Harrison, 8 August 1887
---
"I come here this morning to make an expression of my respect and esteem for this great body of delegates assembled from all the countries of the world, and much more to give a manifestation of my respect and love for that greater body of Christian men and women for whom you stand. Every ecumenical conference is a distinct step in the direction, not only of the unification of the church, but of the unification of the human race.
"Assembling from countries unlike in their civil institutions, from churches not wholly in accord as to doctrine or church order, you come together to find that the unlikeness is not so great as you had thought, and to find your common sympathies and common purposes greater and larger than you had thought-large enough presently to overspread and to extinguish all these transitory lines of division.
"I am glad to know that as followers of Wesley, whose hymns we sing, you have been in consultation as to the methods by which these minor divisions among you might be obliterated. It is the natural order that subdivisions should be wiped out before the grand divisions of the church can be united. Who does not greatly rejoice that the controversial clash of the churches is less than it once was; that we hear more of the Master and His teachings of love and duty than of hair-splitting theological differences?" -- address to the Methodist Ecumenical Conference at the Metropolitan M.E. Church, Washington, DC, 7 October 1891
---
References, Links, & Further Reading: Books, Articles, Links
Books
Articles
Benjamin Harrison, "Military Instruction in Schools and Colleges," The Century, Vol. 47, Iss. 3, January 1894, pp. 468-470
William C. Ringenberg, "Benjamin Harrison: The Religious Thought and Practice of a Presbyterian President," American Presbyterians, 64, Fall 1986, pp. 175-89.
Links
---
---
God & Country Home
Search Page
---
---