---
---
God & Country Home
Search Page
---
---
GEORGE HERBERT WALKER BUSH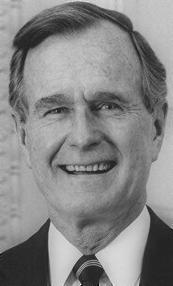 [Library of Congress]
1924-
41st President (1989-1993), 43rd Vice President (1981-1989)
---
---
Education: Yale University
Occupation: Businessman
Political Affiliation: Republican
---
Religious Affiliation: Episcopalian
Summary of Religious Views:
Views on Religion & Politics:
---
Quotations:
"I am guided by certain traditions. One is that there is a God and He is good, and his love, while free, has a self imposed cost: We must be good to one another." -- Convention Acceptance, 1988
---
"Should our children have the right to say a voluntary prayer, or even observe a moment of silence in the schools? My opponent says no ? but I say yes." -- Convention Acceptance, 1988
---
"The values that spring from our faith certainly tell us a lot about our country. And consider that for more than two centuries Americans have endorsed, and properly so, the separation of church and state. But we've also shown how both religion and government can strengthen a society. After all, our Founding Fathers' documents begin with these words: All men are endowed by their Creator with certain unalienable rights. And Americans are religious people, but a truly religious nation is a tolerant nation. We cherish dissent, we cherish the fact that we have many, many faiths, and we protect even the right to disbelieve." -- Remarks at the Annual National Prayer Breakfast, 1 February 1990
---
"As I said many times before, prayer always has been important in our lives. And without it, I really am convinced, more and more convinced, that no man or no woman who has the privilege of serving in the Presidency could carry out their duties without prayer." -- Remarks to the National Association of Evangelicals in Chicago, Illinois, 3 March 1992
---
"Americans are the most religious people on Earth. And we have always instinctively sensed that God's purpose was bound up with the cause of liberty. The Founders understood this. As Jefferson put it, 'Can the liberties of a nation be thought secure when we have removed their only firm basis, a conviction in the minds of the people that these liberties are the gift of God?' That conviction is enshrined in our Declaration of Independence and in our Constitution. And it's no accident that in drafting our Bill of Rights, the Founders dedicated the first portion of our first amendment to religious liberty. We rightly emphasize the opening clause of that amendment, which forbids government from establishing religion. In fact, I believe the establishment clause has been a great boon to our country's religious life. One reason religion flourishes in America is that worship can never be controlled by the state.
"But in recent times we have too often ignored the clause that follows, which forbids government from prohibiting the free exercise of religion. This myopia has in some places resulted in an aggressive campaign against religious belief itself. Some people seem to believe that freedom of religion requires government to keep our lives free from religion. Well, I believe they're just plain wrong. Our government was founded on faith. Government must never promote a religion, of course, but it is duty bound to promote religious liberty. And it must never put the believer at a disadvantage because of his belief. That is the challenge that our administration has undertaken. To be succinct, it is my conviction that children have a right to voluntary prayer in the public schools." -- Remarks to the National Association of Evangelicals in Chicago, Illinois, 3 March 1992
---
"I am very disappointed by the Supreme Court's decision in Lee v. Weisman. The Court said that a simple nondenominational prayer thanking God for the liberty of America at a public school graduation ceremony violates the first amendment. America is a land of religious pluralism, and this is one of our Nation's greatest strengths. While we must remain neutral toward particular religions and protect freedom of conscience, we should not remain neutral toward religion itself. In this case, I believe that the Court has unnecessarily cast away the venerable and proper American tradition of nonsectarian prayer at public celebrations. I continue to believe that this type of prayer should be allowed in public schools." -- Statement on the Supreme Court Decision on the Lee v. Weisman Case, 24 June 1992
---
"You know, I've been President for 3\1/2\ years now. More than ever, I believe with all my heart that one cannot be President of our great country without a belief in God, without the truth that comes on one's knees. For me, prayer has always been important but quite personal. You know us Episcopalians. [Laughter] And yet, it has sustained me at every point of my life: as a boy, when religious reading was part of our home life; as a teenager, when I memorized the Navy Hymn. Or how 48 years ago, aboard the submarine Finback after being shot down in the war, I went up topside one night on the deck, on the conning tower, and stood watch and looked out at the dark. The sky was clear. The stars were brilliant like a blizzard of fireflies in the night. There was a calm inner peace. Halfway around the world in the war zone, there was a calm inner peace: God's therapy." -- Remarks at a Prayer Breakfast in Houston, 20 August 1992
---
"I believe firmly, and I've stated this over and over again, of separation between church and state. Where you get into some complications or some discussion of this is when you get into school choice. I happen to favor it. Some people don't, thinking that it's going to get church and States involved. But what we propose in that area, for example, is to help the families and let them choose.
"I was a recipient and I'll bet there's a bunch of other old guys around here that were recipients of the GI bill after World War II. And they didn't say to me, you can take this help from the Government to go to a State school. They said, here, take it and go to whatever school you want, college of your choice. It didn't diminish anything.
"And so I think we ought to try the same thing, whether it's public, private, or religious schools. That, in my view, is not merging church and state. What I think of it is a choice for a family that has been demonstrably successful early on.
"But the underlying point is, certainly any President of the United States must be always concerned that nothing he or she might do should blur this line of separation between church and state. It is very, very fundamental to our system. And I hope that I can stand up credibly on my record for that principle." -- Remarks and a Question-and-Answer Session at the B'nai B'rith International Convention, 8 September 1992
---
References, Links, & Further Reading: Books, Articles, Links
Books
Articles
Links
---
---
God & Country Home
Search Page
---
---