---
---
God & Country Home
Search Page
---
---
GERALD RUDOLPH FORD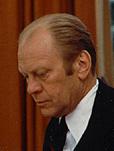 [Gerald R. Ford Library]
1913-2006
38th President (1974-1977), 40th Vice President (1973-1974)
---
---
Education: University of Michigan, Yale University Law School
Occupation: lawyer
Political Affiliation: Republican
Organizational Affiliation(s): Mason
---
Religious Affiliation: Episcopalian
Summary of Religious Views:
Views on Religion & Politics:
---
Quotations:
"As President, I have been cautioned to be very careful about what I say about religious matters. But the separation of church and state, although a fundamental principle to which I fully subscribe, was never intended, in my view, to separate public morality from public policy. It says that the power of government shall not be used to support or suppress any one faith, but in the same sentence protects the profession and the propagation of all faiths.
"I took a minute yesterday to reread the first amendment to our great Constitution before coming over to join you again on this occasion. And this is what it says, and if I might quote: "Congress shall make no law respecting an establishment of religion, or prohibiting the free exercise thereof; or abridging the freedom of speech, or of the press; or the right of the people peaceably to assemble, and to petition the Government for a redress of grievances."
"Now, that says an awful lot in one sentence. It sustains some of our most precious rights. It also underscores how interrelated they are. Freedom to exercise one's religion would be meaningless without freedom of speech and of assembly. Without freedom of the press, there could be neither religious books nor religious broadcasters.
"As we proudly enter a period of celebrating our Bicentennial of independence as a nation, we must remember that our great traditions of freedom did not suddenly start in 1776. For more than two centuries before the Liberty Bell rang, the processes of conflict and compromise were working on this great new continent, and the impassioned extremes of religious and political rivalry were tested and were found wanting.
"In the end, our Founding Fathers sought to establish a new order of society embodying the principles of tolerance and freedom, of unity in diversity, of justice with charity.
"So, the first amendment was written to ensure the perpetuation of the hard-learned lessons from our colonial history that religious belief can neither be coerced nor suppressed by government; that a free people must retain the right to hear, the right to speak, the right to publish and to read, and the right to come together--all of which had been denied the early American settlers at one time or another." -- Remarks at the Annual Congressional Breakfast of the National Religious Broadcasters, 28 January 1975
---
"The early history of our country was written by men who valued the freedom of religion and who had in common a deep faith in God. I believe it is no accident of history, no coincidence that this Nation, which declared its dependence on God even while declaring its independence from foreign domination, has become the most richly blessed nation in the history of mankind and the world. For it is as true today as it was in the Old Testament times that "blessed is the nation whose God is the Lord." I believe that very deeply, and so do you.
"In my own life and throughout my career in public service, I have found in the pages of the Bible a steady compass and a source of great strength and peace. As each of my predecessors in the Presidency has done, I asked for God's guidance as I undertook the duties of this office. I have asked for that guidance many times since." -- Remarks at the Southern Baptist Convention, Norfolk, Virginia, 15 June 1976
---
---
References, Links, & Further Reading: Books, Articles, Links
Books
Articles
Links
---
---
God & Country Home
Search Page
---
---