---
---
God & Country Home
Search Page
---
---
GEORGE WASHINGTON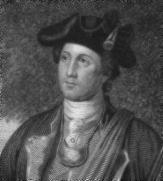 1732-1799
1st President (1789-1797), President of Constitutional Convention, Commander of the Continental Army
---
---
Education: privately educated
Occupation: planter, surveyor
Political Affiliation: Whig, Federalist
Organizational Affiliation(s): Mason
---
Religious Affiliation: Episcopalian
Summary of Religious Views:
Although he maintained an association with the Episcopal church throughout his life, even serving as a vestryman from 1763 to 1782, it is generally acknowledged by most historians who have studied Washington that he was more of a deist or theist in his views than he was an orthodox Episcopalian. In this light, it is noteworthy that he avoided taking communion, and that, when he was on his deathbed, he requested neither prayers on his behalf, nor the presence of a minister.
Views on Religion & Politics:
Washington clearly believed in the importance of religious toleration.
---
Quotations:
"The foundation of our Empire was not laid in the gloomy age of Ignorance and Superstition, but at an Epocha when the rights of Mankind were better understood and more clearly defined, than at any former period, the researches of the human mind after social happiness have been carried to a great extent, the Treasures of knowledge, acquired by the labours of Philosophers, Sages, and Legislators, through a long succession [of] years, are laid open for our use, and their collected wisdom may be happily applied in the Establishment of our Forms of Government, the free cultivation of Letters, the unbounded extension of Commerce, the progressive refinement of Manners, the growing liberality of sentiment, and above all, the pure and benign light of Revelation, have had a meliorating influence on Mankind and increased the blessings of Society; At this auspicious period, the United States came into existence as a Nation, and if their Citizens should not be compleatly Free and Happy, the fa[u]lt will be entirely their own.
....
"I now make it my earnest prayer, that God would have you and the State over which you preside, in his holy protection, that he would incline the hearts of the Citizens to cultivate a spirit of subordination and obedience to Government--to entertain a brotherly affection and love for one another, for their fellow Citizens of the United States at large, and particularly for their Brethren who have served in the Field, and finally, that he would most graciously be pleased to dispose us all, to do Justice, to love Mercy, and to demean ourselves with that Charity, Humility, and Pacific temper of mind which were the Characteristicks of the Divine Author of our blessed Religion, and without an humble imitation of whose example in these things, we can never hope to be a Happy Nation." -- letter to John Hancock (Circular), 11 June 1783
---
"The blessed Religion revealed in the word of God will remain an eternal and awful monument to prove that the best Institutions may be abused by human depravity; and that they may even, in some instances be made subservient to the vilest of purposes." -- Proposed Address to Congress, April 1789
---
"While I reiterate the professions of my dependence upon Heaven as the source of all public and private blessings; I will observe that the general prevalence of piety, philanthropy, honesty, industry, and oeconomy seems, in the ordinary course of human affairs, particularly necessary for advancing and conforming the happiness of our country. While all men within our territories are protected in worshipping the Deity according to the dictates of their consciences; it is rationally to be expected from them in return, that they will be emulous of evincing the sanctity of their professions by the innocence of their lives and the beneficence of their actions; for no man, who is profligate in his morals, or a bad member of the civil community, can possibly be a true Christian, or a credit to his own religious society." -- Letter to the General Assembly of Presbyterian Churches, May 1789
---
"If I could have entertained the slightest apprehension that the Constitution framed in the Convention, where I had the honor to preside, might possibly endanger the religious rights of any ecclesiastical society, certainly I would never have placed my signature to it; and if I could now conceive that the general government might ever be so administered as to render the liberty of conscience insecure, I beg you will be persuaded that no one would be more zealous than myself to establish effectual barriers against the horrors of spiritual tyranny, and every species of religious persecution. For you, doubtless, remember that I have often expressed my sentiment, that every man, conducting himself as a good citizen, and being accountable to God alone for his religious opinions, ought to be protected in worshipping the Deity according to the dictates of his own conscience." -- Letter to the United Baptist Churches in Virginia, 10 May 1789
---
"Whereas it is the duty of all nations to acknowledge the providence of Almighty God, to obey His will, to be grateful for His benefits, and humbly to implore His protection and favor; and
"Whereas both Houses of Congress have, by their joint committee, requested me 'to recommend to the people of the United States a day of public thanksgiving and prayer, to be observed by acknowledging with grateful hearts the many and signal favors of Almighty God, especially by affording them an opportunity peaceably to establish a form of government for their safety and happiness:'
"Now, therefore, I do recommend and assign Thursday, the 26th day of November next, to be devoted by the people of these States to the service of that great and glorious Being who is the beneficent author of all the good that was, that is, or that will be; that we may then all unite in rendering unto Him our sincere and humble thanks for His kind care and protection of the people of this country previous to their becoming a nation; for the signal and manifold mercies and the favorable interpositions of His providence in the course and conclusion of the late war; for the great degree of tranquillity, union, and plenty which we have since enjoyed; for the peaceable and rational manner in which we have been enabled to establish constitutions of government for our safety and happiness, and particularly the national one now lately instituted; for the civil and religious liberty with which we are blessed, and the means we have of acquiring and diffusing useful knowledge; and, in general, for all the great and various favors which He has been pleased to confer upon us.
"And also that we may then unite in most humbly offering our prayers and supplications to the great Lord and Ruler of Nations, and beseech Him to pardon our national and other trangressions; to enable us all, whether in public or private stations, to perform our several and relative duties properly and punctually; to render our National Government a blessing to all the people by constantly being a Government of wise, just, and constitutional laws, discreetly and faithfully executed and obeyed; to protect and guide all sovereigns and nations (especially such as have shown kindness to us), and to bless them with good governments, peace, and concord; to promote the knowledge and practice of true religion and virtue, and the increase of science among them and us; and, generally, to grant unto all mankind such a degree of temporal prosperity as He alone knows to be best." -- Proclamation: A National Thanksgiving, 3 Oct. 1789
---
"The Citizens of the United States of America have a right to applaud themselves for having given to mankind examples of an enlarged and liberal policy: a policy worthy of imitation. All possess alike liberty of conscience and immunities of citizenship It is now no more that toleration is spoken of, as if it was by the indulgence of one class of people, that another enjoyed the exercise of their inherent natural rights. For happily the Government of the United States, which gives to bigotry no sanction, to persecution no assistance requires only that they who live under its protection should demean themselves as good citizens, in giving it on all occasions their effectual support.
"It would be inconsistent with the frankness of my character not to avow that I am pleased with your favorable opinion of my Administration, and fervent wishes for my felicity. May the Children of the Stock of Abraham, who dwell in this land, continue to merit and enjoy the good will of the other Inhabitants; while every one shall sit in safety under his own vine and figtree, and there shall be none to make him afraid. May the father of all mercies scatter light and not darkness in our paths, and make us all in our several vocations useful here, and in his own due time and way everlastingly happy." -- letter, Reply to the Hebrew Congregation, 17 August 1790
---
"I regret exceedingly that the disputes between the protestants and Roman Catholics should be carried to the serious alarming height mentioned in your letters. Religious controversies are always productive of more acrimony and irreconcilable hatreds than those which spring from any other cause; and I was not without hopes that the enlightened and liberal policy of the present age would have put an effectual stop to contentions of this kind." -- letter to Sir Edward Newenham, 22 June 1792
---
"We have abundant reason to rejoice that in this Land the light of truth and reason has triumphed over the power of bigotry and superstition, and that every person may here worship God according to the dictates of his own heart. In the enlightened Age and in this Land of equal liberty it is our boast, that a man's religious tenets will not forfeit the protection of the Laws, nor deprive him of the right of attaining and holding the highest Offices that are known in the United States." -- letter to the members of the New Church in Baltimore, 27 January 1793
---
Misquotations:
"It is impossible to rightly govern the world without God and the Bible." -- This quotation has not been found anywhere in Washington's recorded writings or speeches, as has been acknowledged by David Barton. (See the discussion in Paul F. Boller & John George, They Never Said It: A Book of Fake Quotes, Misquotes, and Misleading Attributions, Oxford Univ. Press, 1989, pp. 126-127)
---
"They work more effectively against us than the enemy's armies. They are a hundred times more dangerous to our liberties and the great cause we are engaged in. It is much to be lamented that each state, long ago has not hunted them down as pests to society and the greatest enemies we have to the happiness of America -- The Jews." -- This is a slight variant of a statement Washington wrote, not against the Jews, but against currency speculators during the Revolution. (See the discussion in Paul F. Boller & John George, They Never Said It: A Book of Fake Quotes, Misquotes, and Misleading Attributions, Oxford Univ. Press, 1989, p. 126)
---
"The Lord God of gods, the Lord God of Gods, He knoweth, and Israel He shall know; if it be rebellion, or if in transgression against the Lord (save us not this day)." -- Supposedly a prayer Washington said privately before a battle, overheard by a little girl. There is no good evidence that he ever said it, nor does it seem like something Washington would have been likely to say. (See the discussion in Paul F. Boller & John George, They Never Said It: A Book of Fake Quotes, Misquotes, and Misleading Attributions, Oxford Univ. Press, 1989, pp. 128-129)
---
"The Government of the United States is not in any sense founded on the Christian religion." -- These are not Washington's words, but are from a treaty between the U.S. and Tripoli (Article 11), negotiated during Washington's administration, but ratified in 1797 and signed by President John Adams. The passage in question reads: "As the government of the United States of America is not in any sense founded on the Christian Religion,-as it has in itself no character of enmity against the laws, religion or tranquility of Musselmen,-and as the said States never have entered into any war or act of hostility against any Mehomitan nation, it is declared by the parties that no pretext arising from religious opinions shall ever produce an interruption of the harmony existing between the two countries."(See the discussion in Paul F. Boller & John George, They Never Said It: A Book of Fake Quotes, Misquotes, and Misleading Attributions, Oxford Univ. Press, 1989, p. 129)
---
"Doctor, I die hard, but I am not afraid to go. Bring me the Book." -- Alleged to be Washington's last words. As he lay on his deathbed, Washington did say "Doctor, I die hard, but I am not afraid to go. My breath cannot last long." But these were not his last words, and he never mentioned the Bible or "the Book". (See the discussion in Paul F. Boller & John George, They Never Said It: A Book of Fake Quotes, Misquotes, and Misleading Attributions, Oxford Univ. Press, 1989, p. 128)
---
References, Links, & Further Reading: Books, Articles, Links
Books
Articles
Harold W. Bradley, "The Political Thinking of George Washington," Journal of Southern History, 11, November 1945, pp. 469-86
John C. Fitzpatrick, "George Washington and Religion," Catholic Historical Review, 15, April 1929, pp. 23-42
Edward J. Redmond, "The Mapmaker of Mount Vernon," Early America Review, Vol. III, No. 3, Winter-Spring 2001
Richard Norton Smith, "The Surprising George Washington ," Prologue, Vol. 26, No. 1, Spring 1994
Links
---
---
God & Country Home
Search Page
---
---