---
---
God & Country Home
Search Page
---
---
JAMES MONROE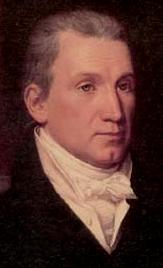 1758-1831
5th President (1817-1825)
---
---
Education: College of William and Mary
Occupation: lawyer
Political Affiliation: Democratic-Republican
Organizational Affiliation(s): Mason
---
Religious Affiliation: Episcopalian
Summary of Religious Views:
Franklin Steiner, in his book The Religious Beliefs Of Our Presidents, categorized Monroe among "Presidents Whose Religious Views Are Doubtful." Indeed, Monroe was very close-mouthed about his religious views -- almost nothing on that subject can be found in his speeches or writings.
David L. Holmes, in his article "The Religion of James Monroe," summarizes Monroe's views this way: "James Monroe seems to have been an Episcopalian of deistic tendencies who valued civic virtues above religious doctrine."
Views on Religion & Politics:
---
Quotations:
James Monroe left almost no documents or speeches pertaining to religion, so there are no quotations from Monroe here.
---
References, Links, & Further Reading: Books, Articles, Links
Books
Articles
David L. Holmes, "The Religion of James Monroe," The Virginia Quarterly Review, Autumn 2003, pp.589-606
Arthur Scherr, "James Monroe on the Presidency and 'Foreign Influence': from the Virginia Ratifying Convention (1788) to Jefferson's Election (1801)," Mid-America, Vol. 84, Nos. 1-3, 2002, pp. 145-206
Arthur Scherr, "Governor James Monroe and the Southampton Slave Resistance of 1799," Historian, Vol. 61, No. 3, 1999, pp. 557-578
Links
---
---
God & Country Home
Search Page
---
---