---
---
God & Country Home
Search Page
---
---
John Tyler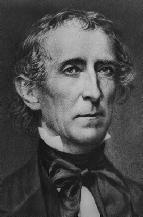 [Library of Congress]
1790-1862
10th President (1841-1845), 10th Vice President (1841)
---
---
Education: College of William and Mary
Occupation: lawyer
Political Affiliation: Democrat, Whig
---
Religious Affiliation: Episcopalian
Summary of Religious Views:
Franklin Steiner, in his book The Religious Beliefs Of Our Presidents, categorized Tyler among "Presidents Whose Religious Views Are Doubtful." Although affiliated with the Episcopal church, he did not take "a denominational approach to God," according to his biographer (Robert Seager II, and Tyler too: A Biography of John and Julia Gardiner Tyler, 1963, p. 109).
Views on Religion & Politics:
Tyler was a strong supporter of religious tolerance and separation of church and state.
---
Quotations:
"The United States have adventured upon a great and noble experiment, which is believed to have been hazarded in the absence of all previous precedent -- that of total separation of Church and State. No religious establishment by law exists among us. The conscience is left free from all restraint and each is permitted to worship his Maker after his own judgement. The offices of the Government are open alike to all. No tithes are levied to support an established Hierarchy, nor is the fallible judgement of man set up as the sure and infallible creed of faith. The Mahommedan, if he will to come among us would have the privilege guaranteed to him by the constitution to worship according to the Koran; and the East Indian might erect a shrine to Brahma if it so pleased him. Such is the spirit of toleration inculcated by our political Institutions.... The Hebrew persecuted and down trodden in other regions takes up his abode among us with none to make him afraid.... and the Aegis of the Government is over him to defend and protect him. Such is the great experiment which we have tried, and such are the happy fruits which have resulted from it; our system of free government would be imperfect without it." -- letter, 10 July 1843
---
"The intolerant spirit manifested against Catholics, as exhibited in the burning of their churches, etc., will so soon as the thing becomes fairly considered, arouse a strong feeling of dissatisfaction the part of a large majority of the American people; for if there is one principle of higher import with them than any other, it is the principle of religious freedom." -- letter to Robert Tyler, 19 May 1856
---
References, Links, & Further Reading: Books, Articles, Links
Books
Articles
Links
---
---
God & Country Home
Search Page
---
---