---
---
God & Country Home
Search Page
---
---
LYNDON BAINES JOHNSON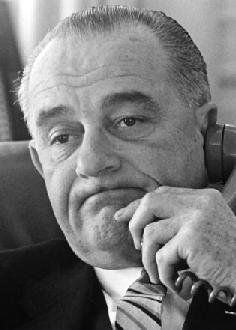 [LBJ Library Photo by Yoichi R. Okamoto]
1908-1973
36th President (1963-1969), Vice President (1963)
---
---
Education: Southwest Texas State Teachers College
Occupation: teacher
Political Affiliation: Democrat
---
Religious Affiliation: Disciples of Christ
Summary of Religious Views:
Views on Religion & Politics:
---
Quotations:
"I believe in the American tradition of separation of church and state which is expressed in the First Amendment to the Constitution. By my office -- and by personal conviction -- I am sworn to uphold that tradition." -- Interview, Baptist Standard, October, 1964
---
"This was the first nation in the history of the world to be founded with a purpose. The great phrases of that purpose still sound in every American heart, North and South: 'All men are created equal'--'government by consent of the governed'--'give me liberty or give me death.' Well, those are not just clever words, or those are not just empty theories. In their name Americans have fought and died for two centuries, and tonight around the world they stand there as guardians of our liberty, risking their lives.
"Those words are a promise to every citizen that he shall share in the dignity of man. This dignity cannot be found in a man's possessions; it cannot be found in his power, or in his position. It really rests on his right to be treated as a man equal in opportunity to all others. It says that he shall share in freedom, he shall choose his leaders, educate his children, and provide for his family according to his ability and his merits as a human being.
"To apply any other test--to deny a man his hopes because of his color or race, his religion or the place of his birth--is not only to do injustice, it is to deny America and to dishonor the dead who gave their lives for American freedom." -- Special Message to the Congress: The American Promise, 15 March 1965
---
References, Links, & Further Reading: Books, Articles, Links
Books
Articles
Robert Dallek, "Three New Revelations About LBJ," The Atlantic Monthly, Vol. 281, No. 4; April 1998, pp. 42 - 44
Lewis J. Gould, Harry McPherson, and Jack Valenti, "Reconsidering LBJ," Wilson Quarterly, 24, Spring 2000, pp. 80-96
Links
---
---
God & Country Home
Search Page
---
---