---
---
God & Country Home
Search Page
---
---
MILLARD FILLMORE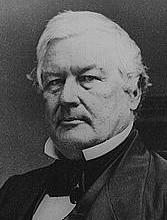 [Library of Congress]
1800-1874
13th President (1850-1853), 12th Vice President (1849-1850)
---
---
Education: no formal education
Occupation: teacher, lawyer
Political Affiliation: Whig
---
Religious Affiliation: Unitarian
Summary of Religious Views:
Fillmore had no formal religious ties, and indeed had shown relatively little interest in religion, until he joined the Unitarian church in about 1831.
Views on Religion & Politics:
Fillmore strongly supported the separation of church and state. In the early 1830s, he labored to overturn the New York test law that required all witnesses in New York courts to swear an oath affirming their belief in God and the hereafter. Among other actions, Fillmore wrote a series of public letters opposing the the test law.
---
Quotations:
"In my opinion, Church and State should be separate, not only in form, but fact -- religion and politics should not be mingled." -- from a series of campaign speeches, Summer of 1856
---
---
References, Links, & Further Reading: Books, Articles, Links
Books
Articles
Links
---
---
God & Country Home
Search Page
---
---