---
---
God & Country Home
Search Page
---
---
RUTHERFORD BIRCHARD HAYES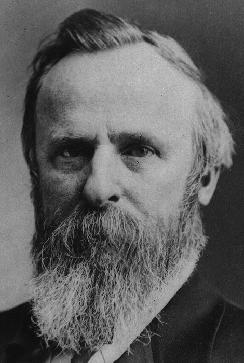 [Library of Congress]
1822-1893
19th President (1877-1881)
---
---
Education: Kenyon College, Harvard Law School
Occupation: lawyer
Political Affiliation: Republican
---
Religious Affiliation: none
Summary of Religious Views:
Hayes considered himself to be a Christian, in his own fashion.
Views on Religion & Politics:
---
Quotations:
"Queer world! We fret our little hour, are happy and pass away. Away! Where to? 'This longing after immortality! These thoughts that wander through eternity'! I have been and am an unbeliever of all these sacred verities. But will I not take refuge in the faith of my fathers at last? Are we not all impelled to this? The great abyss, the unknown future,--are we not happier if we give ourselves up to some settled faith? Can we feel safe without it? Am I not more and more carried along, drifted, towards surrendering to the best religion the world has yet produced? It seems so. In this business, as I ride through the glorious scenery this loveliest season of the year, my thoughts float away beyond this wretched war and all its belongings. Some, yes many, glorious things, as well as all that is not so, [impress me]; and [I] think of the closing years on the down-hill side of life, and picture myself a Christian, sincere, humble, devoted, as conscientious in that as I am now in this--not more so. My belief in this war is as deep as any faith can be;--but thitherward I drift. I see it and am glad." -- Diary, 29 October 1861
---
"Our County Bible Society holds its yearly meeting soon. As one of the vice-presidents of the general society of the county, as a non-church member, a non-professor of religion, I may say why men of the world, friends of their country and of their race, should support the religion of the Bible--the Christian religion. To worship -- 'the great Creator to adore' -- the wish to establish relations with the Omnipotent Power which made the universe, and which controls it, is a deeply seated principle of human nature. It is found among all races of men. It is well-nigh universal. All peoples have some religion. In our day men who cast off the Christian religion show the innate tendency by spending time and effort in Spiritualism. If the God of the Bible is dethroned the goddess of reason is set up. Religion always has been, always will be. Now, the best religion the world has ever had is the religion of Christ. A man or a community adopting it is virtuous, prosperous, and happy.
. . .
"What a great mistake the man makes who goes about to oppose this religion! What a crime, if we may judge of men's acts by their results! Nay, what a great mistake is made by him who does not support the religion of the Bible!" -- Diary, 15 October 1884
---
"I am not a subscriber to any creed. I belong to no church. But in a sense, satisfactory to myself and believed by me to be important, I try to be a Christian, or rather I want to be a Christian and to help do Christian work." -- Diary, May 17, 1890
---
"I am a Christian according to my conscience in belief, not of course in character and conduct, but in purpose and wish;-- not of course by the orthodox standard. But I am content, and have a feeling of trust and safety." -- Diary, 8 January 1893
---
References, Links, & Further Reading: Books, Articles, Links
Books
Articles
Josua Goodman, "The Paraguayan Connection," Ohio Magazine, March, 2003
Links
---
---
God & Country Home
Search Page
---
---