---
---
God & Country Home
Search Page
---
---
WILLIAM JEFFERSON CLINTON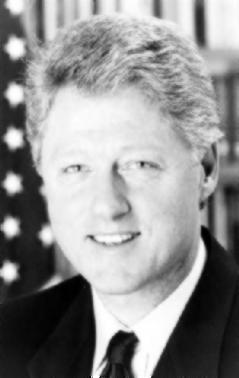 1946
42nd President (1993-2001)
---
---
Education: Georgetown University, Oxford, Yale University Law School
Occupation: lawyer, law professor
Political Affiliation: Democrat
---
Religious Affiliation: Baptist
Summary of Religious Views:
Views on Religion & Politics:
---
Quotations:
"Sometimes I think the environment in which we operate is entirely too secular. The fact that we have freedom of religion doesn't mean we need to try to have freedom from religion. It doesn't mean that those of us who have faith shouldn't frankly admit that we are animated by the faith, that we try to live by it, and that it does affect what we feel, what we think, and what we do.
"On the other hand, it is very important that, as Americans, we approach this whole area with a certain amount of humility, that we be careful when we say that because we seek to know and do God's will, God is on our side and therefore against our opponent. That is important for two reasons. One is, we might be wrong. [Laughter] After all, we're only human. The other is that the thing that has kept us together over time is that our Constitution and Bill of Rights gives us all the elbow room to seek to do God's will in our own life and that of our families and our communities, and that means that there will be inevitable conflicts; so that there will never be a time when everything that we think is wrong can also be illegal. There will always be some space there because there will have to be some room for Americans of good faith to disagree." -- Remarks at a White House Interfaith Breakfast, 30 August 1993
---
"The free exercise of religion has been called the first freedom, that which originally sparked the development of the full range of the Bill of Rights. Our Founders cared a lot about religion. And one of the reasons they worked so hard to get the first amendment into the Bill of Rights at the head of the class is that they well understood what could happen to this country, how both religion and Government could be perverted if there were not some space created and some protection provided. They knew that religion helps to give our people the character without which a democracy cannot survive. They knew that there needed to be a space of freedom between Government and people of faith that otherwise Government might usurp." -- Remarks on Signing the Religious Freedom Restoration Act of 1993, 16 November 1993
---
"Let me say, first of all, you have never found me criticizing evangelical Christians. I have welcomed the involvement in our political system of all people and especially people of faith. I have bent over backwards as a Governor and as a President to respect the religious convictions of all Americans. I have strong religious convictions myself.
"But that is very different, that is very different from what is going on when people come into the political system and they say that anybody that doesn't agree with them is godless, anyone who doesn't agree with them is not a good Christian, anyone who doesn't agree with them is fair game for any wild charge, no matter how false, for any kind of personal, demeaning attack." -- Interview With Kevin Horrigan and Charles Brennan of KMOX Radio, St. Louis, Missouri, 24 June 1994
---
"Religious freedom is perhaps the most precious of all American liberties -- called by many our 'first freedom.' Many of the first European settlers in North America sought refuge from religious persecution in their native countries. Since that time, people of faith and religious institutions have played a central role in the history of this Nation. In the First Amendment, our Bill of Rights recognizes the twin pillars of religious liberty: the constitutional protection for the free exercise of religion, and the constitutional prohibition of the establishment of religion by the state. Our Nation's founders knew that religion helps to give our people the character without which a democracy cannot survive. Our founders also recognized the need for a space of freedom between government and the people -- that the government must not be permitted to coerce the conscience of any individual or group.
" . . .
"I share the concern and frustration that many Americans feel about situations where the protections accorded by the First Amendment are not recognized or understood. This problem has manifested itself in our Nation's public schools. It appears that some school officials, teachers and parents have assumed that religious expression of any type is either inappropriate, or forbidden altogether, in public schools.
"As our courts have reaffirmed, however, nothing in the First Amendment converts our public schools into religion-free zones, or requires all religious expression to be left behind at the schoolhouse door. While the government may not use schools to coerce the consciences of our students, or to convey official endorsement of religion, the government's schools also may not discriminate against private religious expression during the school day.
"I have been advised by the Department of Justice and the Department of Education that the First Amendment permits -- and protects -- a greater degree of religious expression in public schools than many Americans may now understand." -- President Clinton's memorandum on Religious Expression in the Public Schools, 12 July 1995
---
"The holiday season is a time when America's remarkable religious diversity shines brightest in so many homes and different places of worship and schools. Today I want to talk to you about the role of faith in our lives, in all of our religious diversity, and, particularly, in the education of our children.
"America's Founders were men and women of faith, many of whom fled oppression overseas to find freedom on our shores. They believed the best way to protect religious liberty was to guarantee, first of all, the right to practice religion by the dictates of their own conscience; and second, to forbid our Government from imposing or establishing any religious belief. In their wisdom, they enshrined these two principles in our Constitution.
"But of course, reconciling these principles has not always been easy, especially when it comes to our education system. Finding the proper place for faith in our schools is a complex and emotional matter for many Americans. But I have never believed the Constitution required our schools to be religion-free zones or that our children must check their faiths at the schoolhouse door.
". . .
"Now, in 1995 our administration released a set of principles for protecting religious freedom in our public schools. We did so in response to parents and educators who asked for help in knowing what kinds of religious activities are permissible in public schools and what is not permissible. They asked for help in respecting the rights and beliefs of all students, from the most observant from all religious backgrounds to those who choose freely, as is their right, to completely abstain from any religious activity.
"Those guidelines we issued make it clear that students do have the right to pray privately and individually in school, the right to say grace at lunch, the right to meet in religious groups on school grounds and to use school facilities just like any other groups do. They have the right to read the Bible or other religious books during study hall or free class time and the right to be free from coercion to participate in religious activity of any kind. Now, since we first issued those guidelines, appropriate religious activity has flourished in our schools and continuing in our country. Today I'm announcing the release of expanded guidelines, more practical help for teachers and principals, for parents and students, for the whole community. Guidelines like this will help teachers better understand how to teach about religions and help faith-based organizations join the effort to improve public education.
"Across America, schools and faith-based organizations are telling us they want to build new and effective partnerships, like the large number of faith-based groups involved in America Reads or the Shiloh Baptist-Seaton Elementary School partnership, which offers after-school activities here in Washington, DC. Faith-based organizations in schools, though different in many ways, do often share important goals: expanding opportunities to learn, lifting children's lives. Our new guidelines will help them work together on common ground to meet constitutional muster, to avoid making students uncomfortable because they come from different religious traditions, while helping students make the most of their God-given talents. These guidelines also tell us that a consensus is emerging among educators and religious leaders and among defenders of the first amendment. So many of them have endorsed our efforts. Their voices echo the words of George Washington who said that Americans have, and I quote, 'abundant reason to rejoice, that in this land every person may worship God according to the dictates of his own heart.'
"Today, as we count the days down to the end of the 20th century and the beginning of the 21st, we know that this fundamental and precious liberty is still strong. We are determined that it will remain so, not just for our own children but for generations yet to come." -- The President's Radio Address, 18 December 1999
---
References, Links, & Further Reading: Books, Articles, Links
Books
Articles
Works by William Jefferson Clinton

intrv. by Jann S. Wenner, "Bill Clinton: The Rolling Stone Interview," Rolling Stone, October 6, 2000

Biographies

John W. Burns and Andrew J. Taylor, "A New Democrat? The Economic Performance of the Clinton Presidency," The Independent Review, Vol. 5, No. 3, Winter 2001, pp. 387-408
Samantha Power, "Bystanders to Genocide," The Atlantic Monthly, Vol. 288, No. 2, September 2001, pp. 84-108
David Remnick, "The Wanderer: Bill Clinton's quest to save the world, reclaim his legacy-and elect his wife," The New Yorker, 18 September 2006
Links
---
---
God & Country Home
Search Page
---
---